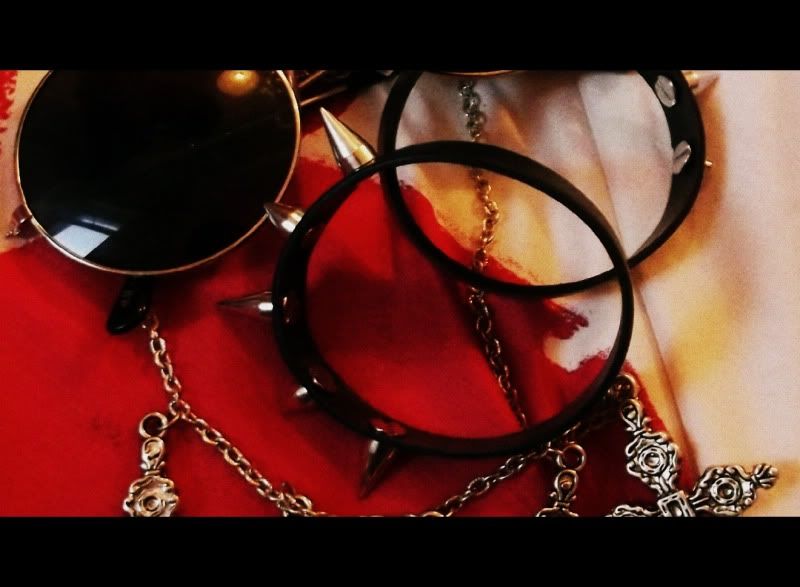 Dear God. Despite my recent pastel mewlings, it didn't take long for me to shut my hyper-girl drawer firmly and throw myself headlong into all things Ozzy. As much as I love the candy-cane aesthetic and soft, feminine palette of this season, putting on a wickedbad pair of dark glasses and bracelets with muchos eye-gouging potential will always, ALWAYS be far more appealing.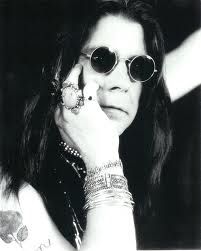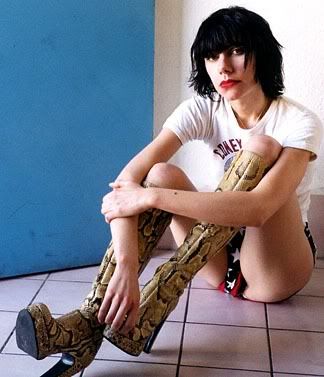 (Ozzy, Patti Smith, PJ Harvey)
A marathon charity haul in Bridgend with Jenny threw up a couple of bargains, my favourite being this bizarr-o striped shirt with fancy schmancy buttons and killer shoulderpads (which are sadly hidden by the jacket). It doesn't photograph all that well due to it's billowing shape but trust me, it's a winner.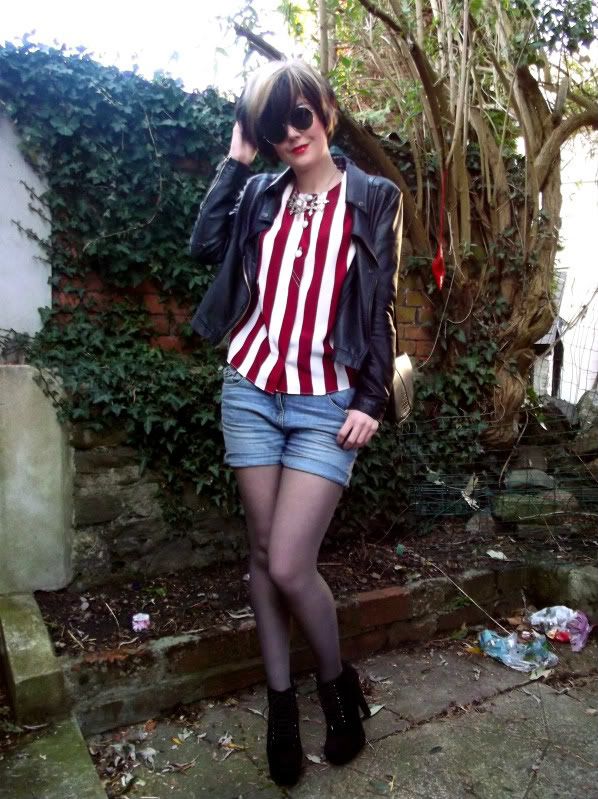 Unfortunately, continuing uni madness has not allowed nearly half as much time as I'd like to crack on with the ever-growing pile of 'things to make/change' that's currently sitting on my sofa. In fact, it's left me no time at all, save for last night when I was all hyper and jittery after a whole lot of coffee and chats with Jenny and Jenny. Lesson learnt - never sit down at a sewing machine without at least a vague clue of what you hope to make. I wasted a nice bit of midnight blue velvet in my attempts to make a nice drawstring skirt, as my cavalier attitude to cutting and pinning resulted in a...a...
thing
so bad that Oli actually couldn't stop laughing at when I put it on. Bah.
I did get a chance to whip together the mega-cross necklace I've been 'designing' in my head whilst waiting for Oli to get out of the shower this morning. I thought it would go bloody brilliantly with these hugely tacky (and therefore AWESOME) rubber studded bands that I picked up for £1.50 yesterday.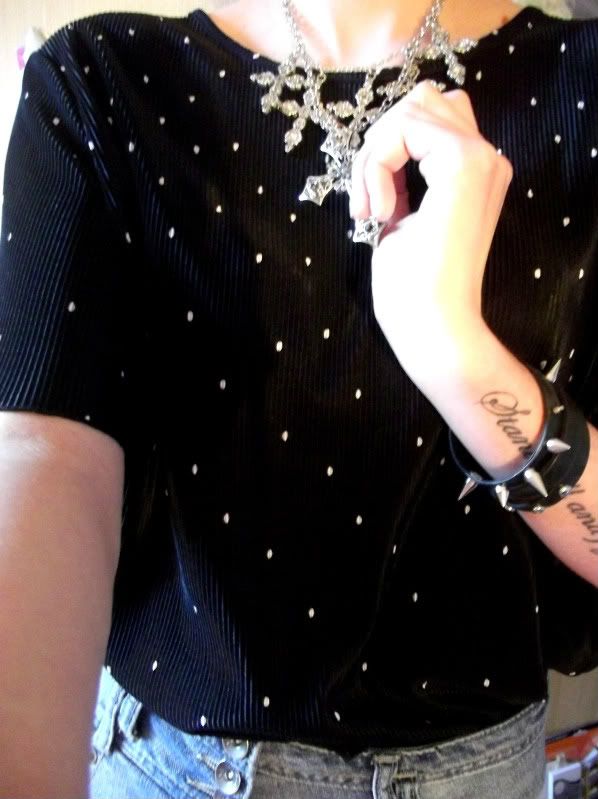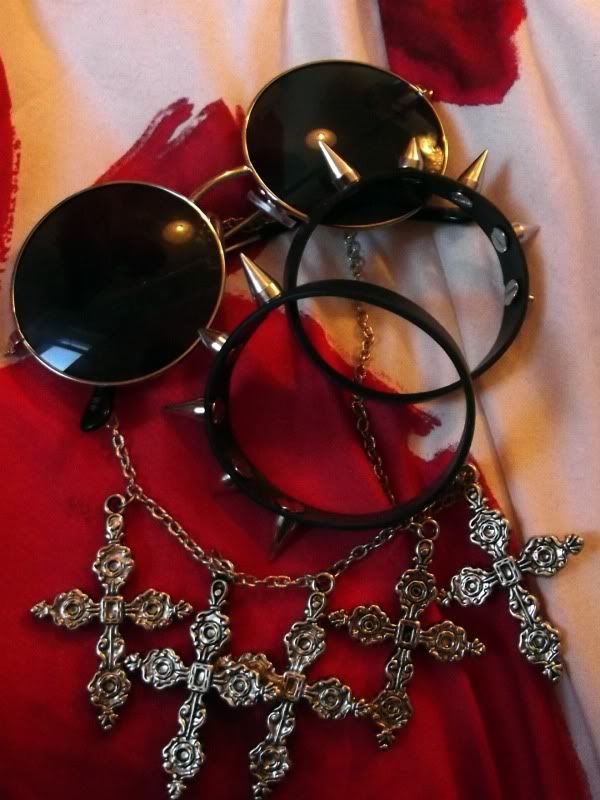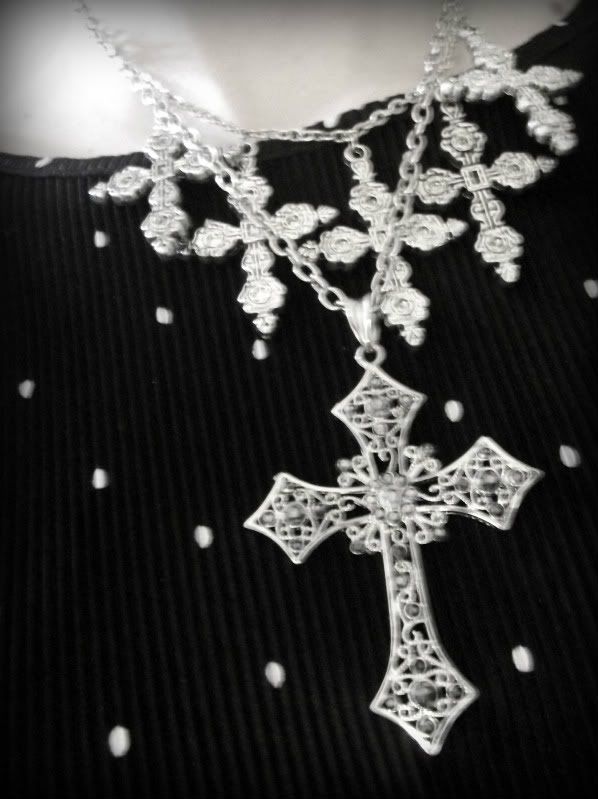 I blame the recession, 2012 apocalypse, whatever for all this doomsday styling. But seriously, somebody needs to come and confiscate this mounting pile of goth-inspired attire and hand me a Katie Melua CD before it all gets too much and I end up like one of
GG Allins groupies
.
I wore this to Mother Dearest's for dindins, and was greeted by my brother.
"Yo. Why are you wearing that dickhead hat?"
Charming. I guess we all know the obvious answer to that though, as these pictures will prove *queue idiotic, badly picnik-edited shots with the 1960's effect utilised to achieve that faux-vintage look so beloved by hipsters. Shame I forgot to move the teds - I really do have a mental age of about seven.*
Bowler - Primarni
Specs - H&M
Top - Barnardos
Shorts - Scope
Necklaces - DIY and Claires
I'll leave you all with a news package that Efa and I shot and edited on Friday, partially in an attempt to prove that uni is really as hectic as I say it is, but mostly so you can all have a good laugh at my honking and hilarious uber-blinky presenting face. Adios! x