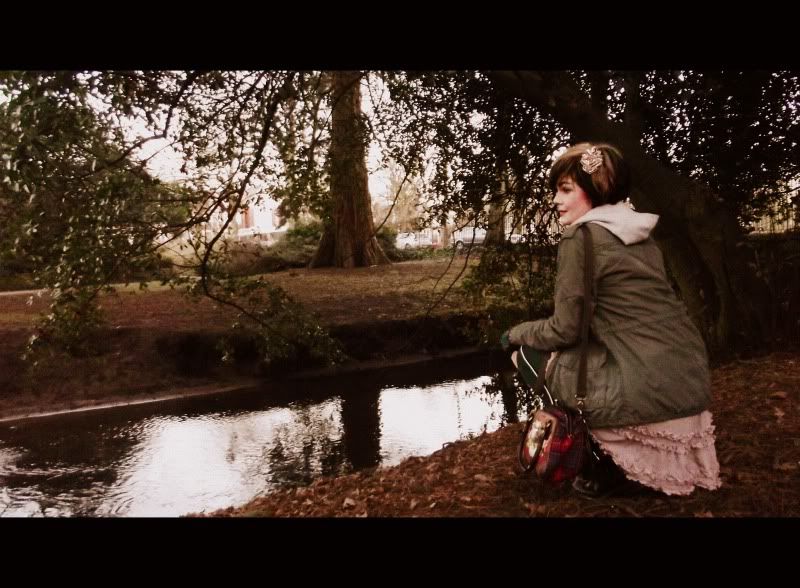 It's still wintery and still cold, so despite the clear blue skies and blessed lack of wind today still required a copious amount of layering and a pair of the chunkiest knit tights known to mankind. 10,000 denier or something like that. Wicked.
I'm still horrendously bored of town, shopping and bumping into walking Urban Outfitters mannequins every time I leave the house. As some of you regular readers may have noticed, I never have and never will be conventionally stylish. My hair is perpetually non-compliant, my tights seem to ladder the minute they leave the packet and the majority of my wardrobe looks like it belongs in the bin. Perhaps that's why no matter where my day-to-day "style" musings take me, I always find myself drawn back to a teen-angsty warrrghhh my life is so fraught with emotional drama grunge aesthetic.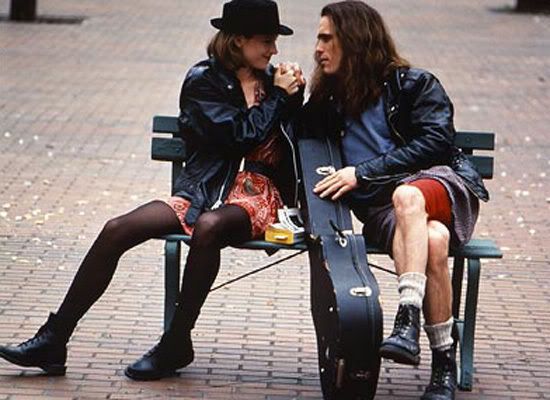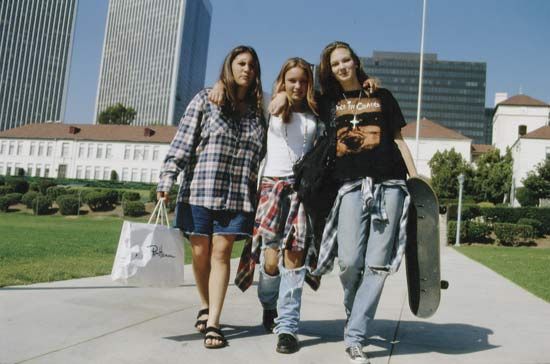 (Clueless, lindsayliving, Sookie in Igby Goes Down - my first and everlasting antifashion influence, allrosesarepink, Marc Jacobs)
Life at the moment is a whole lotta hectic. Uni has kicked off big-style, so functional is currently the word of the moment when getting ready for the long days ahead.
Some vaguely exciting news - I've been asked to present a documentary about music therapy for a group of third years. I kind of got roped into doing it without really knowing what the hell was going on, and thinking it would be one of those 3 minute short film malarkeys which would involve me turning up for an hour, shouting some words into a microphone then buggering off and leaving them to it. Not so. It's a 25 minute film and I will be interviewing all kinds of crazy people in my 'voyage of discovery' into the growing use of music therapy. I shit you not. I've been attempting to take on a bunch more presenting roles as part of my course anyway in an attempt to ditch my chronic shyness once and for all. This strategy worked somewhat yesterday when I opted to 'read the news' for our TV journo module. After much freaking out, I eventually realised that staring into a camera and reading pre-written words off an autocue wasn't actually that difficult and managed to get through the whole thing without stuttering or fidgeting - a miracle considering I find it hard to even look people in the eye when I talk to them!
Unfortunately, on day one of the doc filming I only had about ten minutes to learn the entire intro script before I was thrust in front of the camera for my documentary debut. Que much fluffing, stressing out and five guys burying their face in their hands as I fannied about shouting 'fuck my life!' every time I forgot my lines. I think I may need some practice, so we'll see how it goes. Hopefully, if I gets me a copy of the full script and learn what to do with my hands when talking (as opposed to clenching my fists so tight my nails dig into my palms) the end result won't be
totally
tragic. I may have to fix up and look sharp for a couple of weeks, mind. I'm not sure the following counts as 'amateur presenter chic'.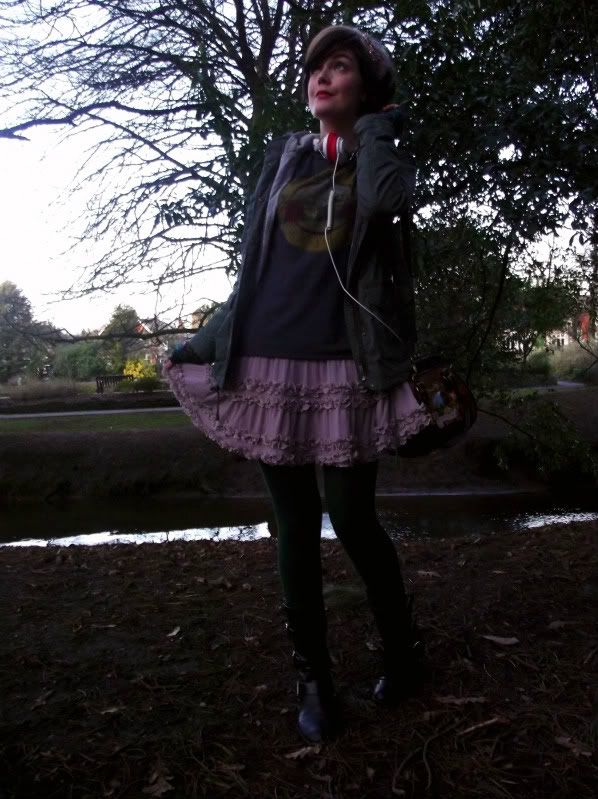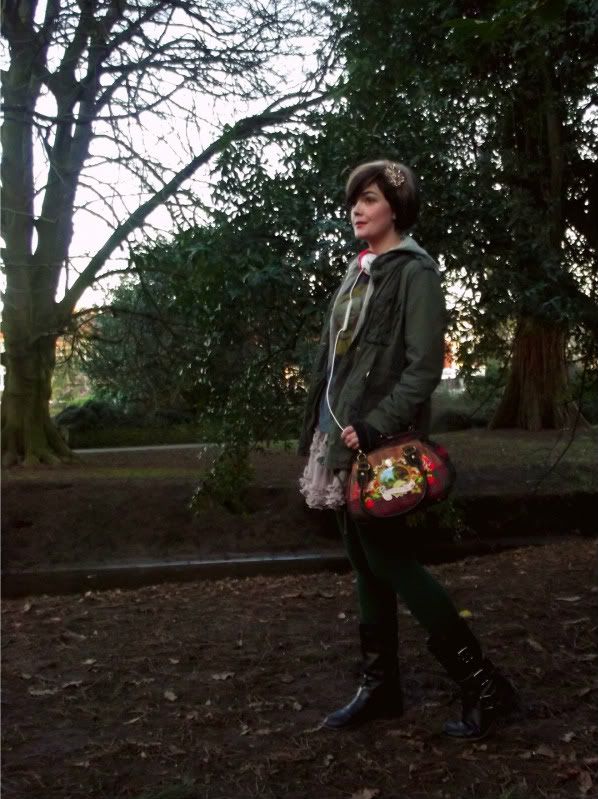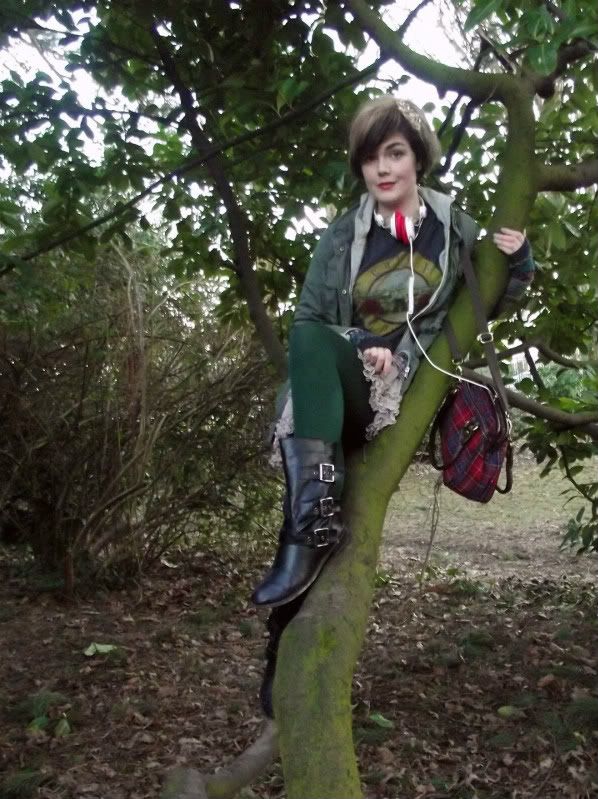 Coat, hoodie and tights - H&M
Guns n Roses tee & boots - RSPCA
Petticoat skirt - British Heart Foundation
Bag - Pip
Headphones - Hello Kitty (gift from Oli!!)
I'll leave you all with a smashing picture of our latest dumpster dive haul - free bread for the next month! Massively helpful, considering Ol and I are completely skint at present. Thanks Iceland, your wasteful attitude and chucking of bread, fish and crisps that AREN'T EVEN OUT OF DATE has saved us more than a few pennies.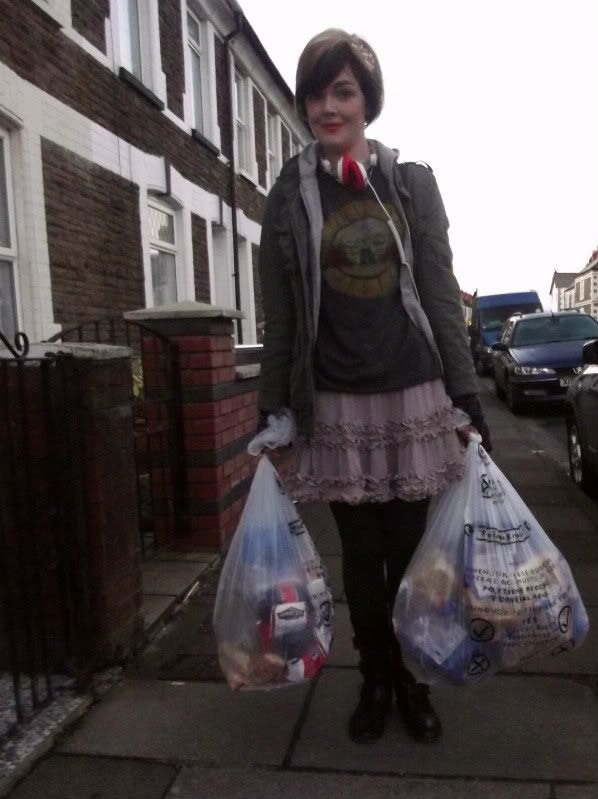 Til later, chums!
xx