An uneventful day, if I'm honest, which will make for a very quick blog post as it's the wee hours of the morning and I'm very sleepy. Day four has involved getting nicely dressed up to go for a jaunt around the fantastic charity shops down the road.
Fake fur coat - charity shop, cardigan-top thing - vintage from Camden Market, skirt - vintage from Northcote Lane, shoes - my house.
Unfortunately, on opening the front door I was confronted by a wall of rain. Honestly, it was as though someone was emptying a bucket out of my upstairs window directly onto the porch. So instead of having a little browse I walked a whole 5 metres to Milkwood Gallery, an awesome little shop on the corner of my street that sells antiques, nick-nacks and some beautiful vintage clothes.
As I walked in, I was confronted by a familiar sight. I gasped, and ran to embrace this character from my past. The character in question was a beautiful brocade 1950's dance dress which I had bought five years ago from a small vintage dealer in Cardiff's Jacobs antique market. It's a gorgeous duck egg blue and holds a lot of sentimental value to me, as the aforementioned vintage seller became quite a good friend of mine during my late teens. Sadly, she passed away a year and a half ago. I held onto the dress for years, despite it having a broken zip that I never got round to fixing and a bit of mould on the underskirt, until this summer in a moment of desperation I sold it to Milkwood in order to buy food and cigarettes. They gave me £8 for it and I regretted it ever since, although I did manage to whip up a mean veggie chilli with the proceeds.
Gail, the owner of Milkwood, had restored it beautifully. The underskirt had gone and a new zip was in place and it looked even better than it did when I first laid eyes on it. I had to try it on. It was still a perfect fit, and actually benefits from the removal of the underskirt. Unfortunately, when I looked at the price tag, it read £35. £35!!! I bought it for a tenner, and sold it for less! ULTIMATE FRUSTRATION.
I skulked out of the shop, dejected, and sat on my sofa with a cup of insanely sugary tea contemplating whether or not to resign myself to an afternoon of chocolate, laziness and a Jeremy Kyle marathon. It looked like the day was going to be another write-off until I remembered...my new sewing machine! Not put off by the fact I haven't operated one of these contraptions since I was studying for my textiles GCSE many moons ago, I ripped open the box and busied myself with bobbin-winding, pattern cutting and speed stitching a-gogo. I will post the fruits of my labour tomorrow - prepare to laugh A LOT at my hopeless attempts at creating a wearable garment. Nevertheless, it cheered me up no end and I've already got a 'things to sew' list as long as my arm blu-tacked to my wardrobe. The spare material and flimsy pattern paper also gave Daveycat a nice place to sleep, which is always a bonus.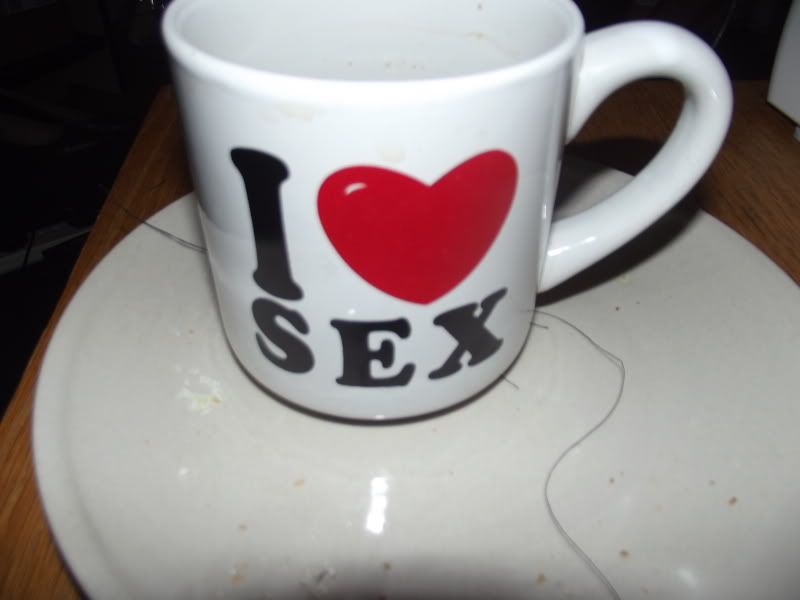 I'll leave you with a question: Should I rebuy my 1950's beauty? I'm torn!
Adios.