Hello there! It's late, I'm tired, but it's been a fantastic few days (for details see
Jenny
's blog on the DRUGS gig, I can't be bothered to rehash what she's already said very well) and I haven't blogged in a while so sleep can wait. Who needs zzz's anyway? SLEEP IS FOR THE WEAK, PAL.
I apologise for any typos before I write anymore. The 'U' button on my laptop is being an absolute shit, and I really can't be arsed to laboriously check that it's constantly working considering it's 3am and all. I haven't let my spelling standards slide, honest.
Today I woke up at ridiculous o'clock, and after a mega spring clean I thought I'd attempt to rock a brave new look. I call it the dickhead.
Ok, so maybe this outlandish new trend was a result of me getting my noggin stuck in my jumper. What of it? The song choice du jour was Beethoven's Moonlight Sonata. I have a classical compilation CD that I play every night to help me to get to sleep and this is my favourite track. As the weather here is continuing to defy the doom-and-gloom predictions, I opted for something wafty and delicate to breeze about in. Perfect opportunity to crack out this skirt I picked up whilst wandering in Camden with Alex in November. It's been way too chilly to wear it for the past few months (plus, unbelieveably, I only own two pairs of shoes that actually look any good with it) so I took full advantage of being able to swish around the Roath lanes in my flimsy get-up.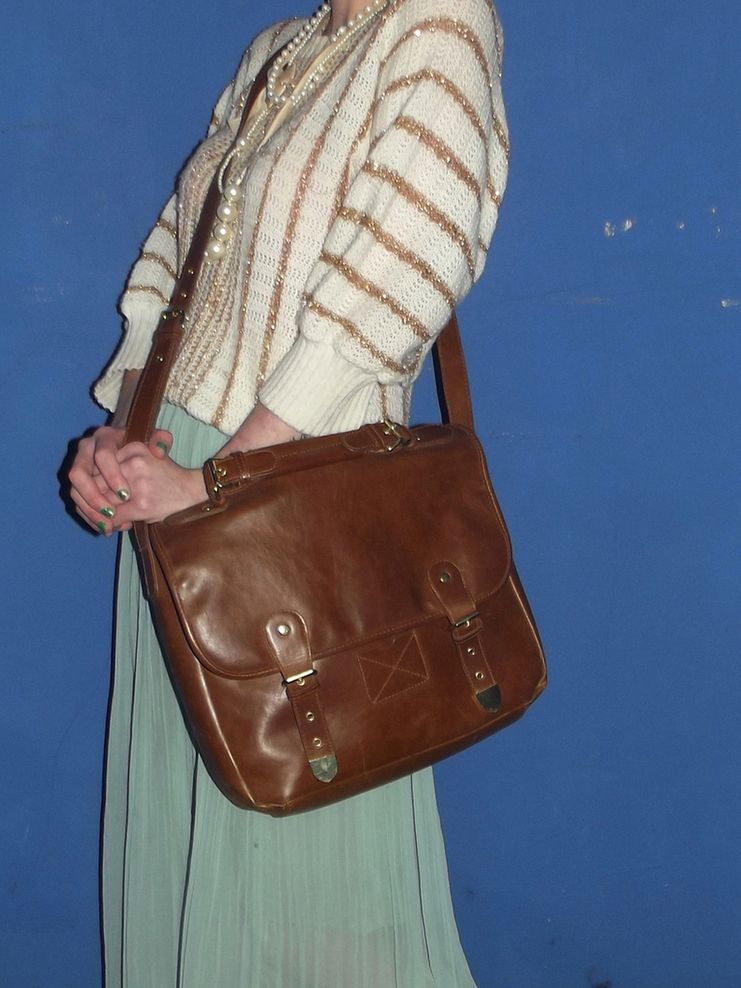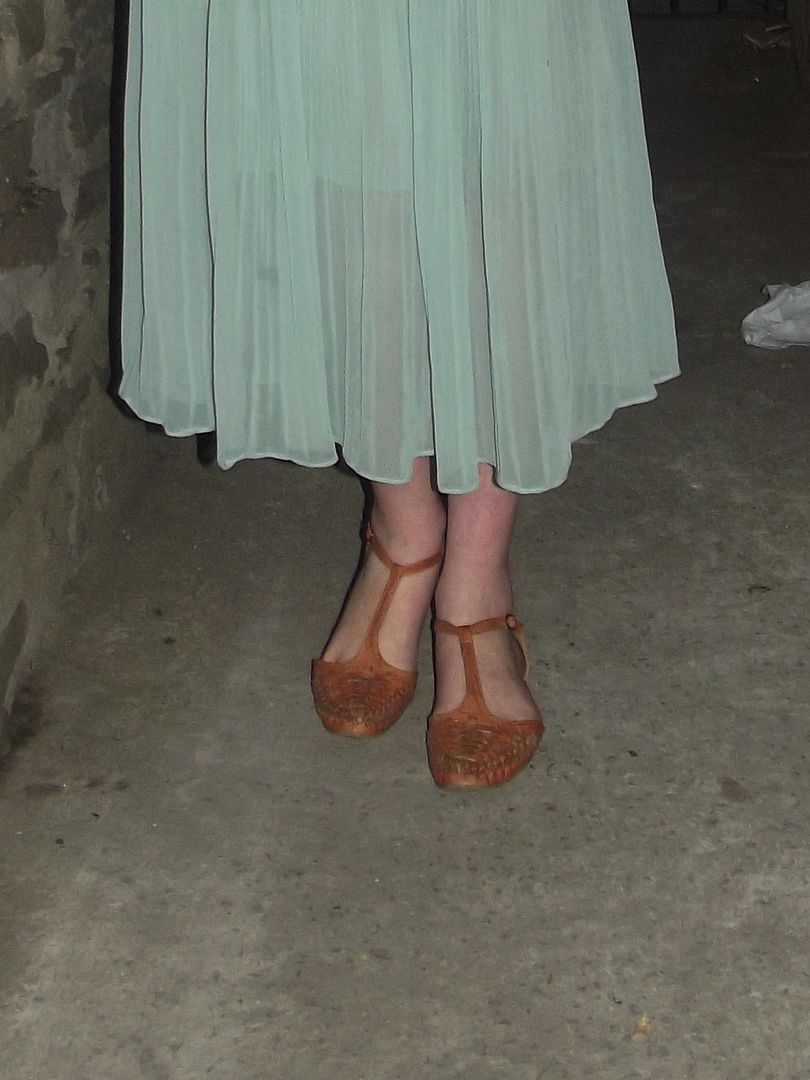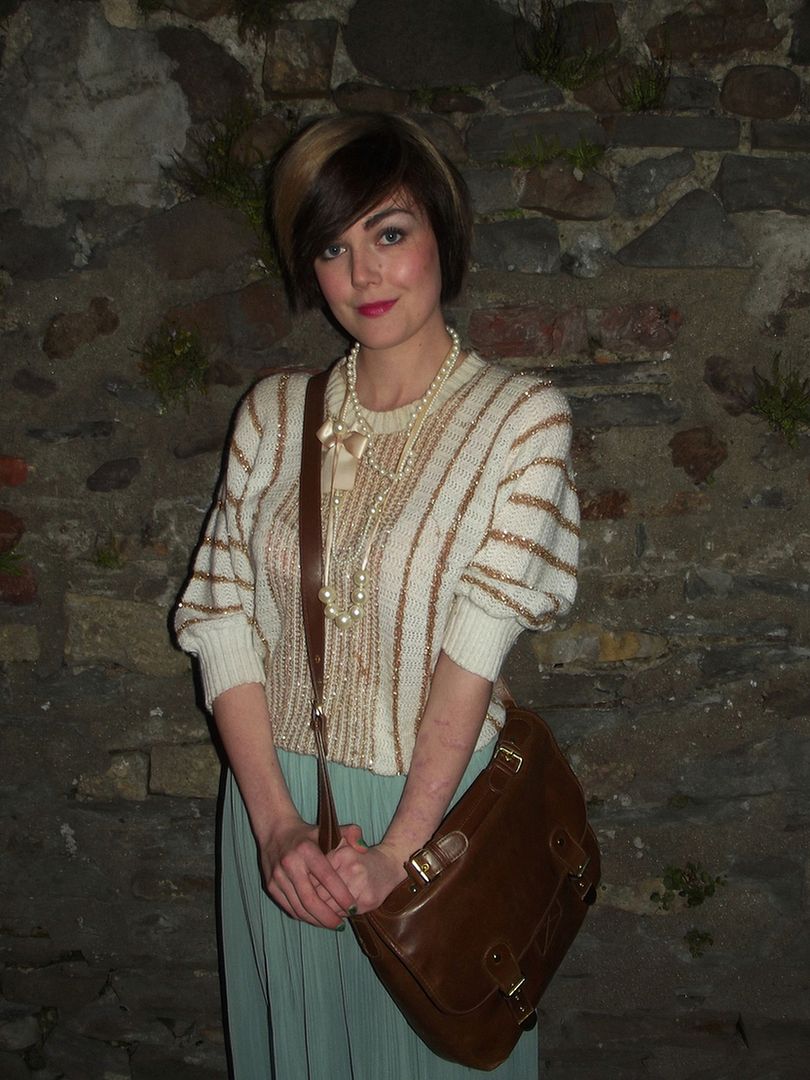 Jumper - vintage
Necklace and skirt - Camden Market
FUCKIN' MASSIVE SATCHEL - Topshop
Shoes - Urban Outfitters
On our way to the Tesco bins, we found a really sketchy cat who, after a bit of coaxing, finally sidled over for a bit of love. My obsession with cats has reached an all new, worrying obsession. The other day Oli and I were watching Family Guy, and Peter shaved a cat but ended up accidentally killing it.
I cried.
Correct me if I'm wrong, but that mini-anecdote reaches new levels of pathetic. In twenty years, I WILL be that crazy cat lady. Guaranteed.
In other news, Father dearest finally arrived back from his month-long trip to Africa. He was there filming a documentary about a group of bikers who buy second-hand motorcycles in the UK, then ride them right the way down through Morocco, Mauritania and kidnap alley, minefields, the western Sahara and Senegal until they get to the Gambia. Once there, they donate the bikes to medics at a village hospital so they're able to get to and from work, and to jet off on emergency calls. It's a bloody fantastic cause and Pops has a wealth of stories to tell. Inspiring stuff - I'll post the link to the documentary here when he's finished the edit. He bought me back this gorgeous necklace - apparently it was the only gift-appropriate thing he could find to bring back which suits me fine. Clenched fist! Seed beads! Turquoise! Father, you know me too well.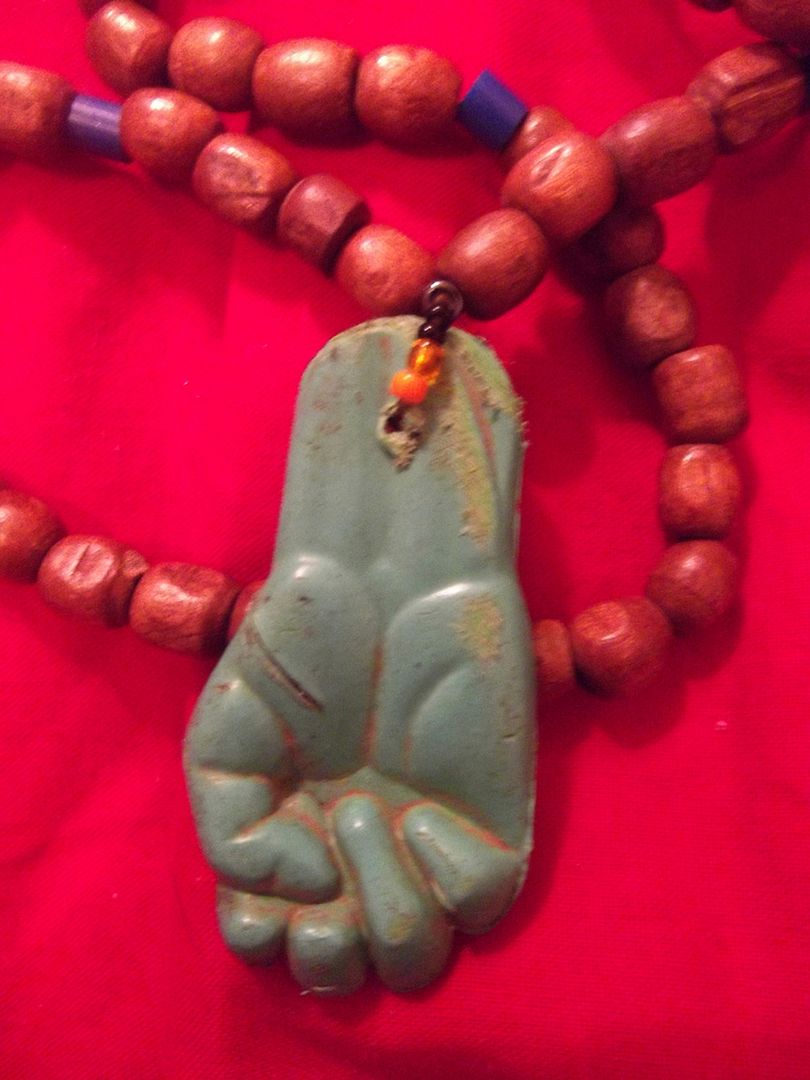 As it's now the Easter hols, I was able to justify doing diddly squat for 80% of today. Unfortunately doing fuck all gets a bit dull after a while, so I stopped ignoring the towering pile of 'stuff to sew' and FINALLY patched up these trusty shorts, which have served me well since I bought them as jeans when I was sixteen but ripped a couple of months ago, leaving a cock-shaped hole in the buttock area. Bad times. I thought it was time to jazz them up a little, and nabbed some suhweet floral fabric from
Sian'
s goldmine of scraps to sew over the back pockets. Et voila! New shorts! Half assed tutorial coming up.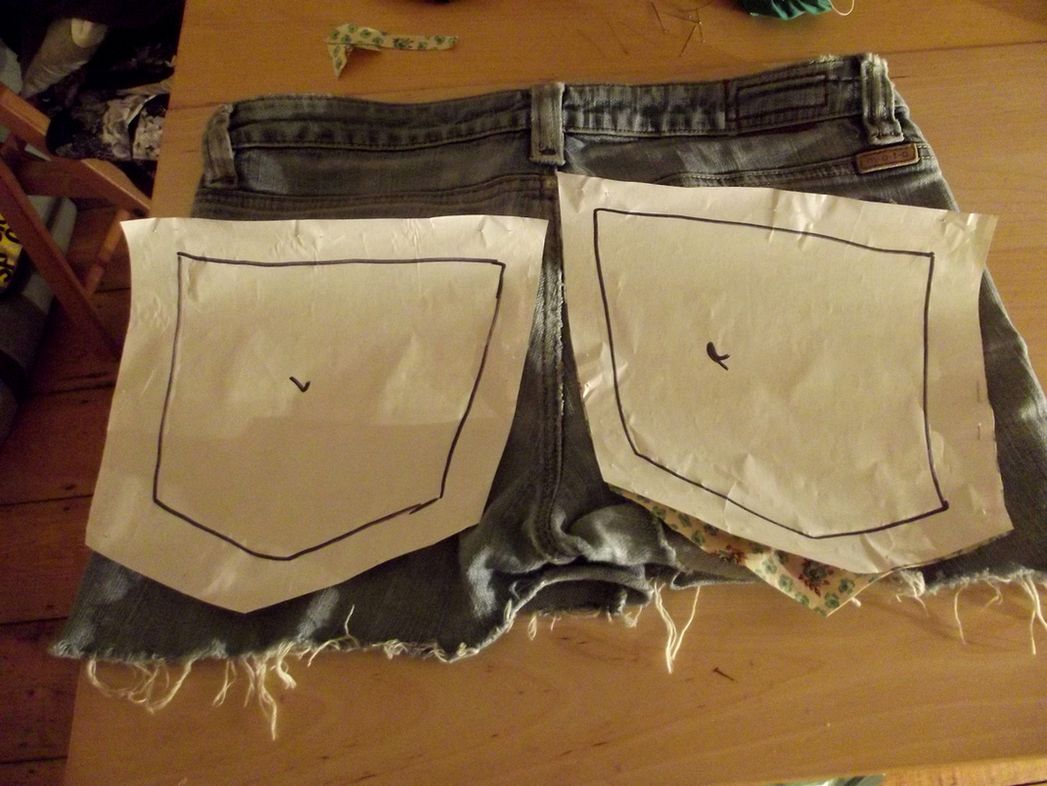 Trace pockets to make a rough pattern. I use wrapping paper for my patterns, as for some reason my wardrobe contains a seemingly endless supply of the stuff and it works just as well. I'm dmb and felt the need to mark each pattern with left and right, but you probably won't need to.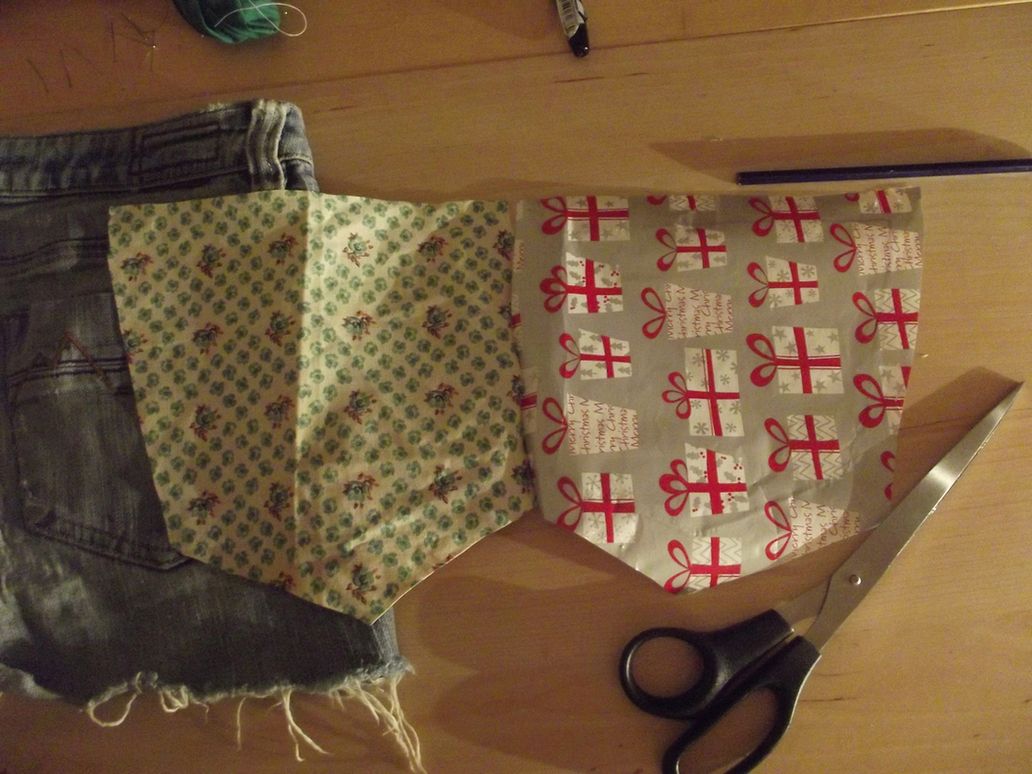 Cut out pattern, leaving half an inch or so to keep the hem looking pretty. Pin to fabric of your choice. Cut out fabric. (Rocket science, innit?)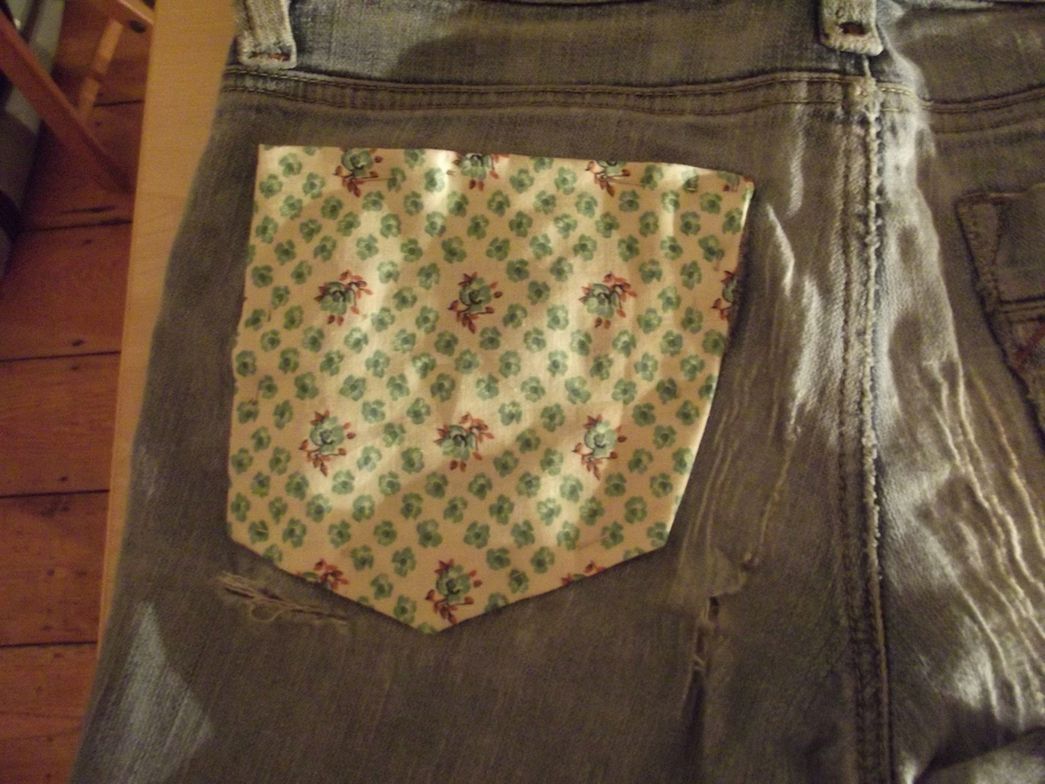 Fold grotty edges underneath and pin to pockets. Sew. RESULT!
Ok, maybe sleep isn't for the weak after all. My eyes are getting heavy as I type, and I'm in danger of setting fire to the cat with my cigarette. Adios! x