Bonsoir! It's been a gloriously hot couple of days here in the 'Diff, so the shorts have been out in full force and studying has been abandoned in favour of cold cider in the park. As I was called for last-minute presenter duty yesterday I employed my new getting-ready-in-a-hurry tactic and whacked a random tune on the stereo. It was Lady Gaga - Love Game. Why is that in my collection? I have no memory of ever buying a Gaga CD in my life. Mysterious...but whatever. All I knew is that it definitely called for black lipstick, which is how I ended up pootling along to interview the leader of an organisation called Live Music Now (and making a complete balls-up of it, may I add) wearing this: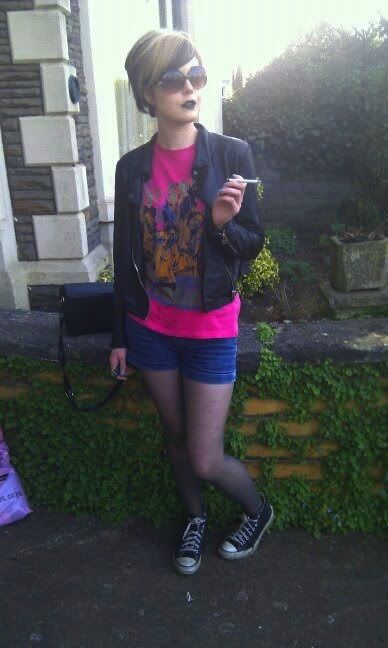 Leather jacket - rabbit nibbles
Sunglasses - present from Bon Zoeface
T-shirt - Topman
Shorts - found in my dads attic
Converse - YES.
Today was exciting, as my Romwe petal collar finally arrived! I genuinely did a mad little joy-dance on my front porch when I caught sight of the parcel. Little things, hey? So excited was I that in my haste to snap a picture, I forgot that the rest of my outfit was utterly stupid, which is why I'm only wearing my butt-protectors as bottoms. Butt-protectors being a pair of cut-off tights that I wear underneath every single skirt I wear out of the house. Lesson learnt after one too many undie-flashing scenarios...never again will you catch me off-guard, wind!
Petal collar - Romwe
Polka dot top - Ty Hafan
Butt protectors - ah crap.
The tune of today ended up being The Fray - Over My Head. Yup, another song that has inexplicably worked it's way into my CD rack. I do not particularly like this song. It doesn't speak to me about anything much at all, but after a minute of listening I put together a vague idea of a teenage runaway who is, as the song would suggest "in over her head" and getting the hell out of dodge. Which was a great excuse to wear my beat-up but ever-so-comfy ancient Cons and giant boom-box bag. Oli then made the stellar suggestion that I took the challenge up a notch and not wear anything that went over my head, which was pretty helpful as it cancelled out at least 80% of my wardrobe. I am in LOVE with this galaxy print skirt! Esther donated it to me in it's original dress form, but after a bit of snipping and adding a bit of elastic it's now a lovely ruche-waisted mini. The bag actually does play music, but unfortunately a lack of cash = lack of batteries so the boombox stayed woefully silent.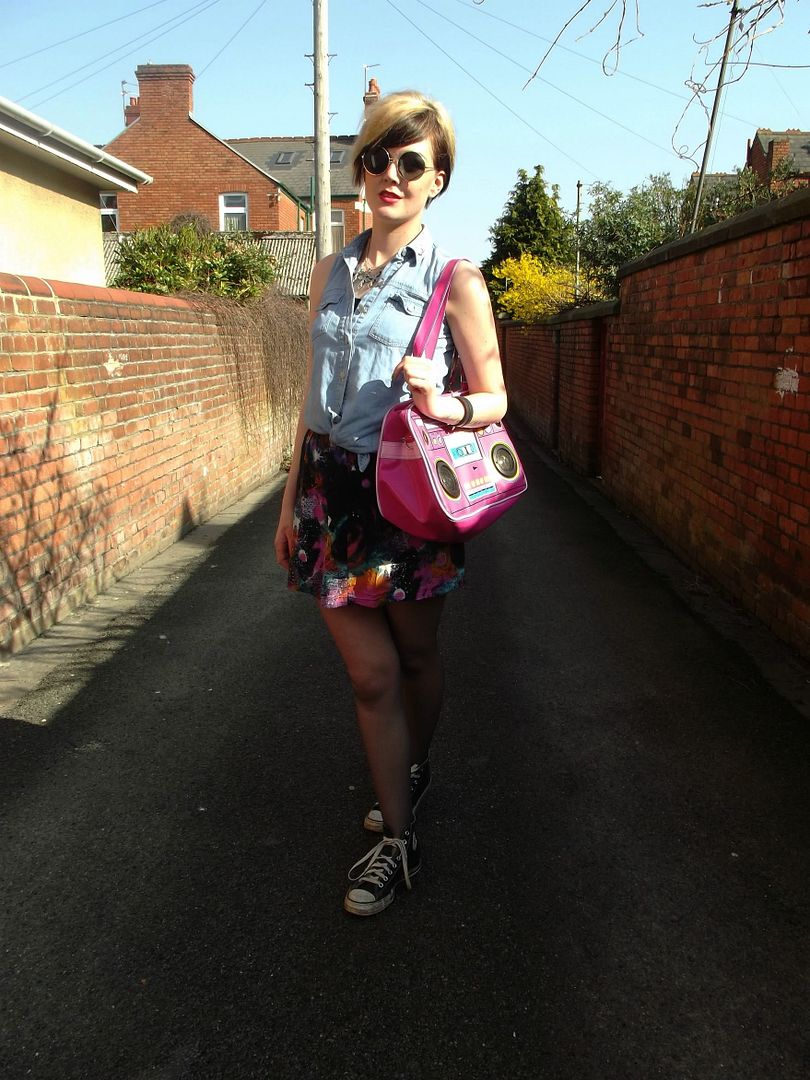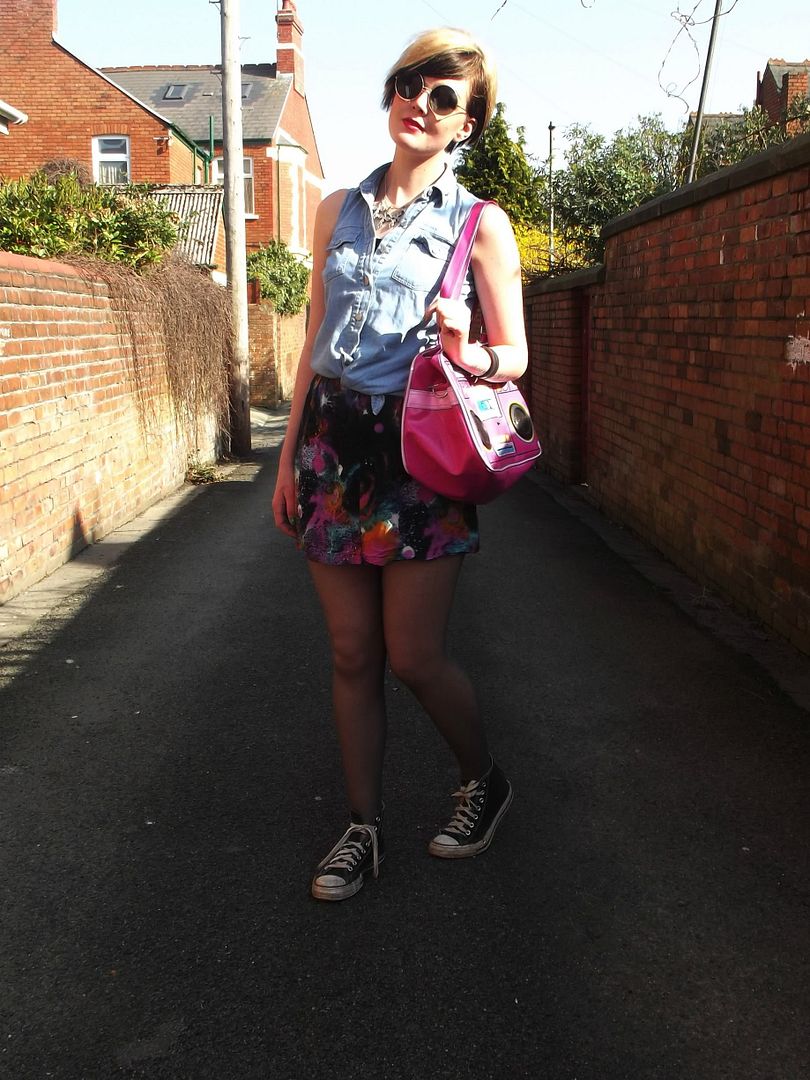 Denim shirt - Northcote Lane
Cross necklace - made meself
Skirt - donated by Esther, altered by me
Sunnies - H&M
Boombox - Blue Banana
I'll leave you with some pictures of Daveycat's new favourite pasttime...WALKIES! Adios! x