Wotcha, chums! It's the Easter holidays at last, and as is customary in Britain the weather promptly turned to shit. Which means that theoretically for the last week I should have been glued to my computer, powering through those three essays due in May. Unfortunately, whilst I have indeed been holed up in my house I have yet to crack open a book, and have instead indulged in my newfound love of BLEACH.
Oh yes. Thursday was when all bleachy hell realy broke loose when I got my hands on an empty spray bottle, filled it with a bleach solution and went crazy on this black long-sleeved cotton top.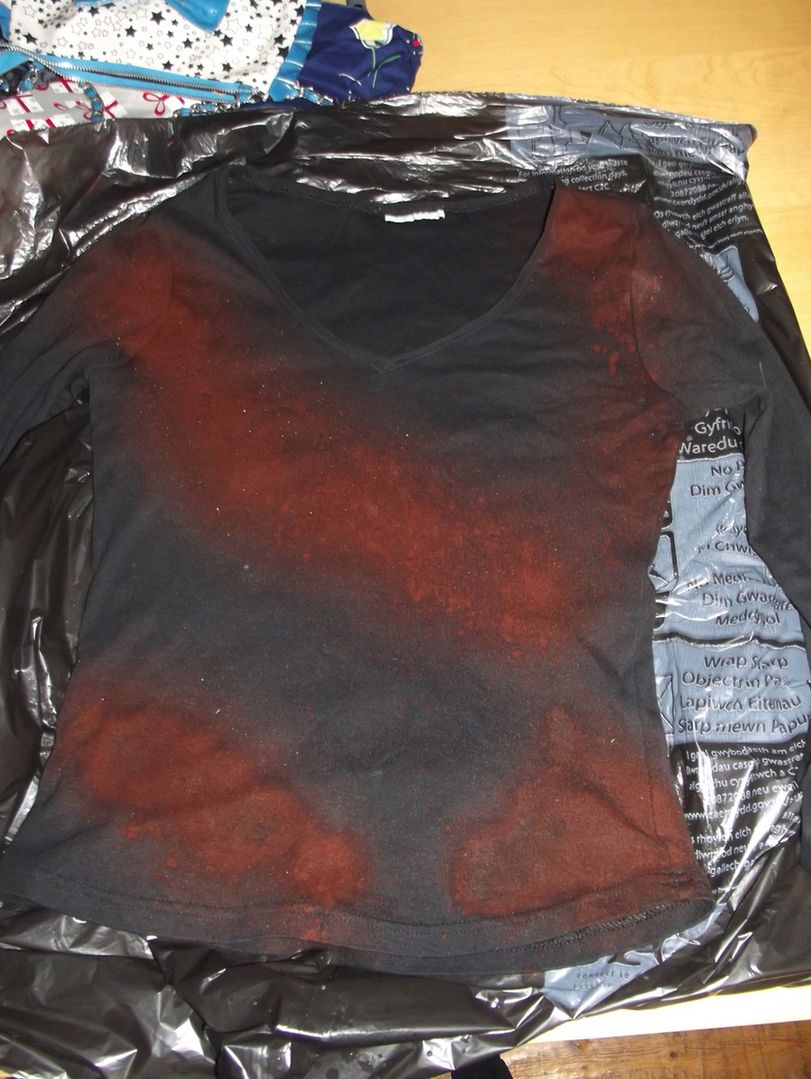 That't the top in it's formative stages, and me with awful hair and my granny specs administering the bleach with nary a care in the world. I loved the rapid effects of the bleach-spray so much that I grabbed my old blazer jacket that I haven't worn for approximately 100 years and went bat-shit crazy on that too.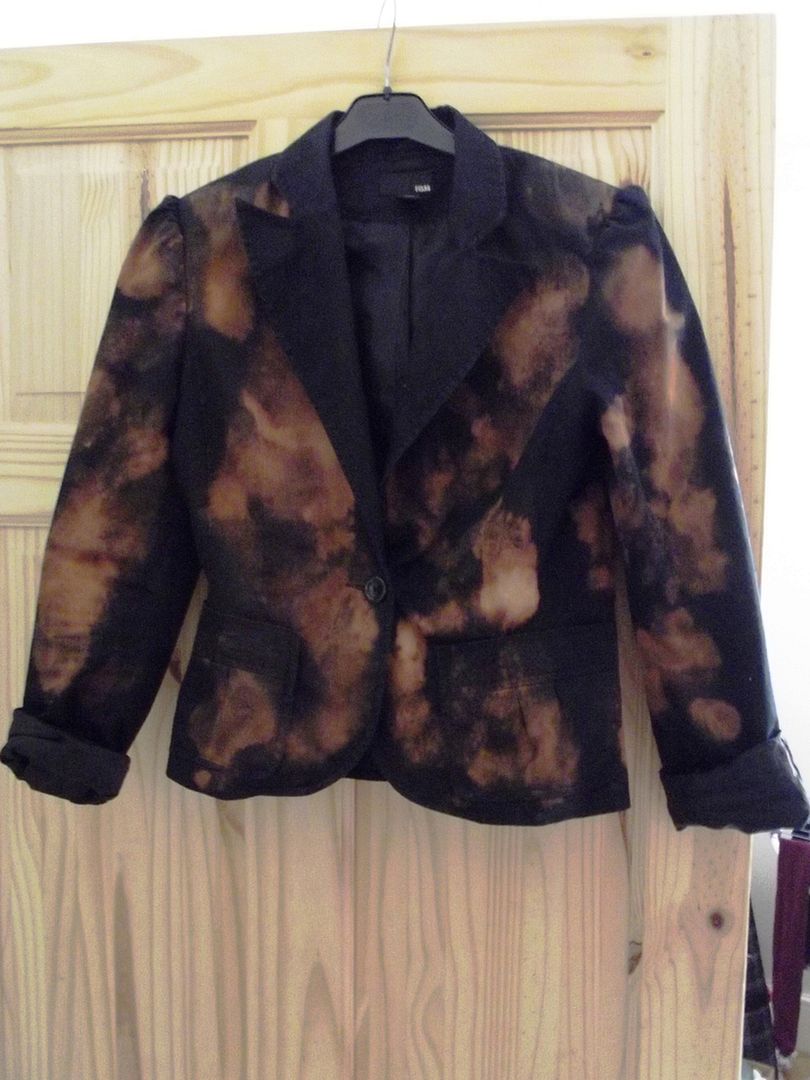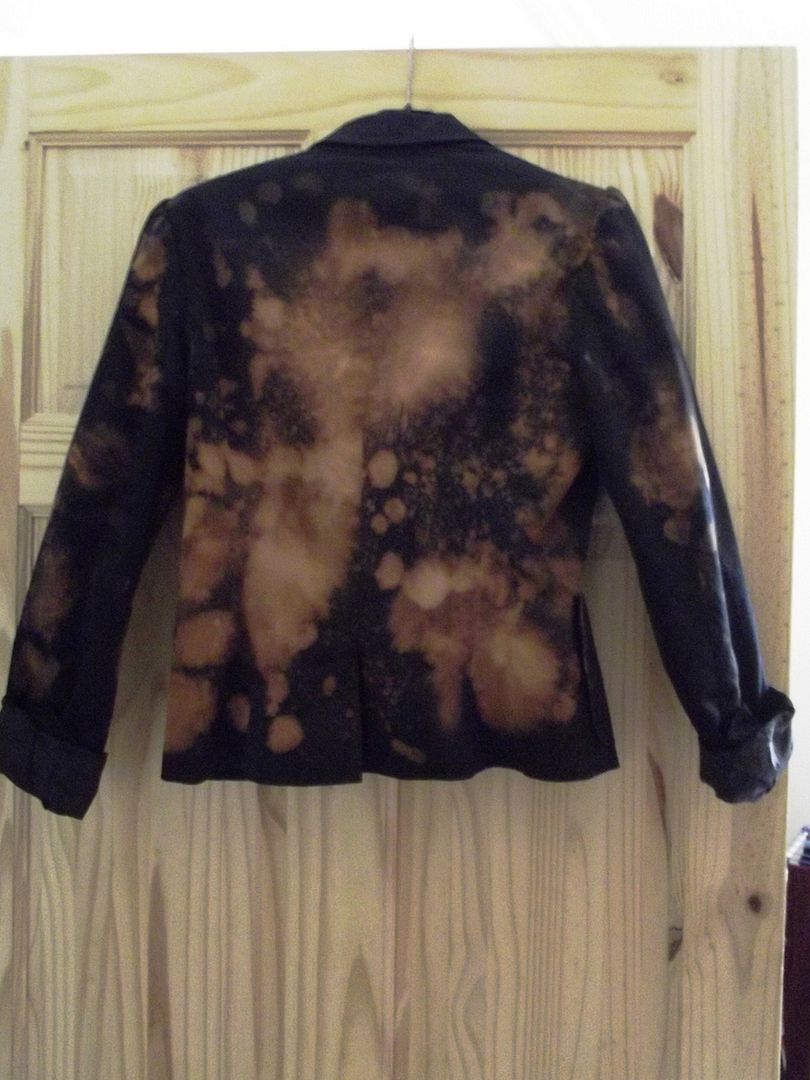 I had also popped a pair of dark denim high-waisted shorts in a bleach solution and left them for three hours. When I finally went back to them I was amazed to see that they were nigh-on unrecognisable as the shorts Mammy gave me a year ago! Pre-bleach they were the darkest indigo - 180 minutes later they came out of the bucket a gorgeous shade of light blue. Curse my lack of taking 'before' shots to go with the afters - when I start hacking my clothes up I seem to go into some kind of DIY frenzy and locating a camera is the last thing on my mind. I ended up lopping the sleeves off the bleached t-shirt, cutting a few inches off the bleached shorts, tacking them up and adding some gold studs before going to the Architects/Rolo Tomassi gig (100% awesome.) Anyway, here's a couple of shots that
Jenny
and I took after she picked me up from recording the documentary voiceover with Danny and Matt on Friday!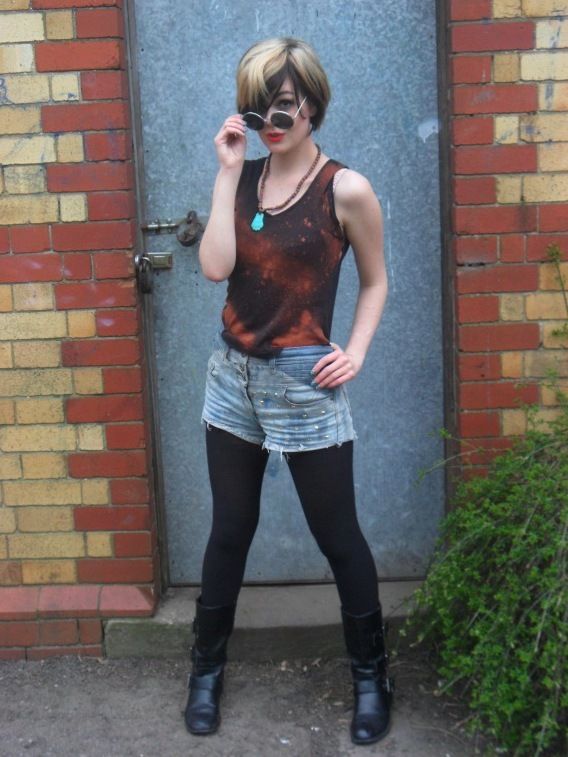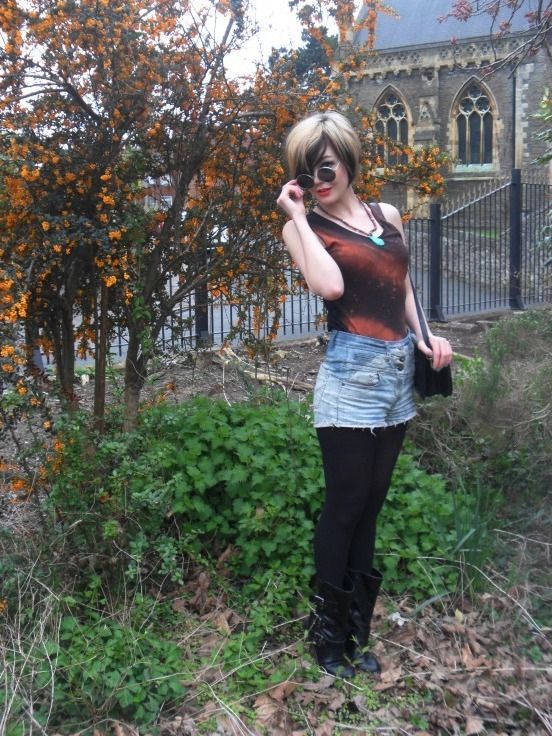 T-shirt - homemade
Bleached shorts - originally Next, DIY-ed by me.
Specs - H&M
Boots - chazz
Necklace - the Gambia
Last night whilst watching the Help (probably one of the best films I've ever seen, if you haven't already watched it PLEASE DO!!) I grabbed a couple of scraps of Sian's left-over fabric and ribbon and stitched together a couple of bows. I was surprised at how little time they took - with each bow taking an average of 10 minutes I could realistically cover an item of clothing with them in a day...watch this space.
After spending the last month with precisely zero pence in my bank account, I've started to embrace the fact that I am totally poor. Being skint and thus unable to even venture into a charity shop for a quick bargain has encouraged me to start creating more clothes at a faster rate than ever before. Ahh, the simple happiness that sitting in front of a brilliant film with a pile of fabric and a million scattered pins brings...Adios! x