Whilst out with the lovely Melissa last night, our conversation turned to freeganism and my friend Efa's bin-raiding shenanigans. As students who both live away from home and resent paying extortionate prices for a loaf of shit bread from stupid ball-face evil Tesco corporation of doom (may not be official corporation name) we decided to have a go at dumpster diving ourselves. After all, we thought, how hard can it be? Efa practically lives out of the bins.
Let me tell you now, there seems to be a lot more to bin-raiding than merely opening the dumpster and pulling out a bag of goodies. We must have checked the bins of about five stores and found paper, paper, paper and some foul-smelling meat slurry. Not good. So after getting completely disheartened, not to mention covered in bin juice, we admitted defeat and went to drown our sorrows with amaretto.
The whole dumpster thing provided me with some inspiration, though. It made me think of that old phrase 'bitch'd look good in a bin-bag'. I pondered it for some time (15 seconds) and in my boozy haze decided to conduct a little experiment. I would wear a bin-bag, and see if it was indeed possible to look any good in it. Not a bin-bag artily draped and tied into a nice approximation of a cocktail dress, mind. I would simply rip three holes into the first one I could find, belt it up and walk around in it to see if it was remotely wearable. So I did, and here are the results.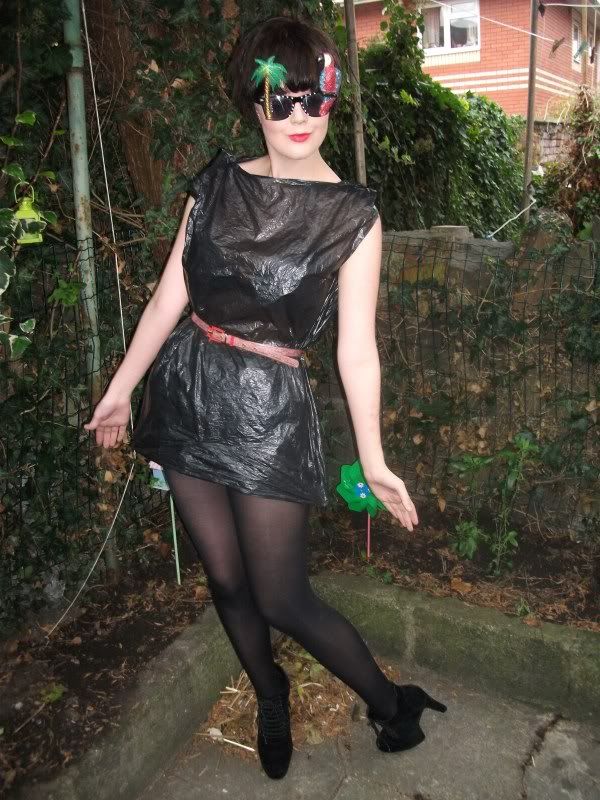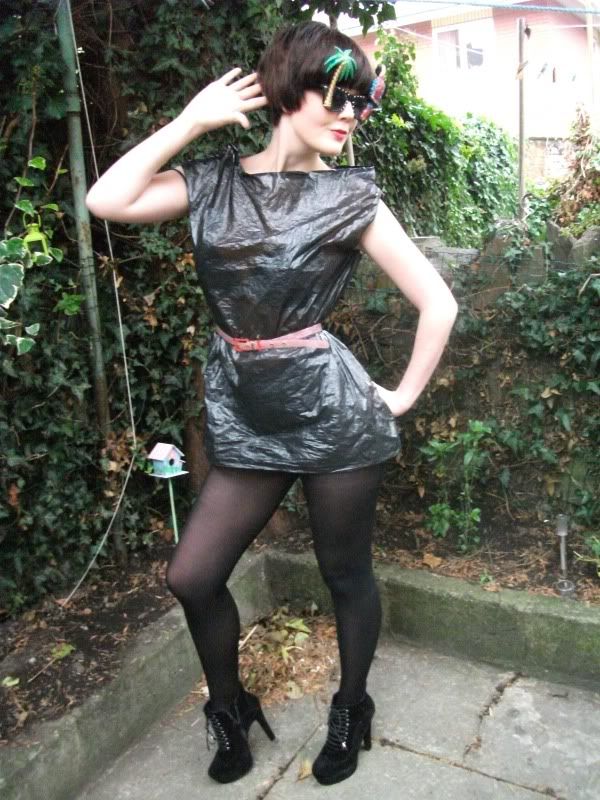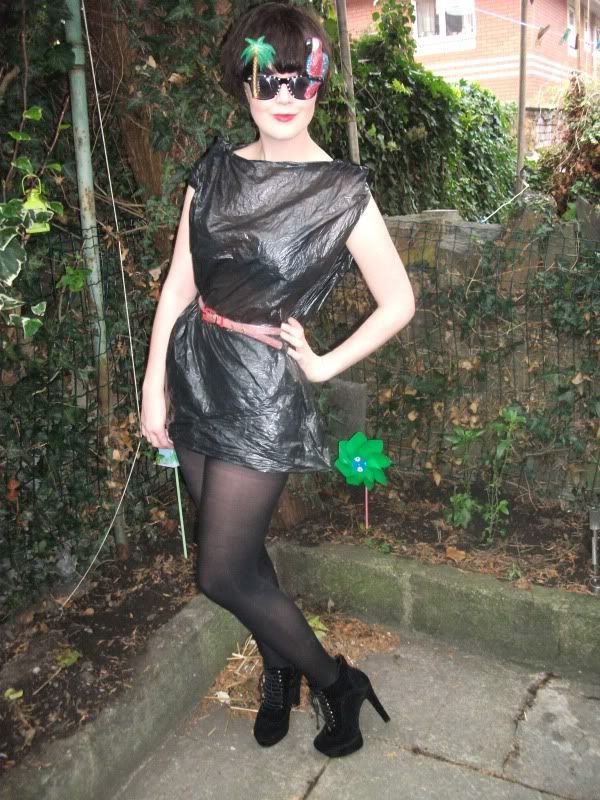 Sunglasses - Rossiters, bin bag - on top of my washing machine, belt - River Island, boots, Eccentrix, dignity - AWOL.
I'm not sure you could call it wearable. The bag makes a horrible rustling sound whenever a muscle is moved and poses a substantial risk of spontaneous combustion, which isn't great considering I smoke like a chimney. However, I did like the simple shape the bag fell into when belted. In short, I don't believe I'll be rocking this look in public again.
On a slightly more conservative note, Sian met me from work on Sunday as it was the FIRST SUNDAY OF THE MONTH, which we always get excited about as it means Northcote Lane Market is back! Northcote Lane is an evening vintage market that takes place at a great vegetarian cafe called Milgi's, a whole 5 minutes walk from our house. It stocks a massive variety of obscenely cheap vintage clothes, handmade accessories, tea sets, courgette plants, and a bizarre selection of oddities, and anyone living in Cardiff who hasn't bothered to go down yet is obviously an idiot. The point is, I picked up another couple of bargains, my favourite one being the dress below, which was a mere £12. I believe it will be an integral part of my winter wardrobe.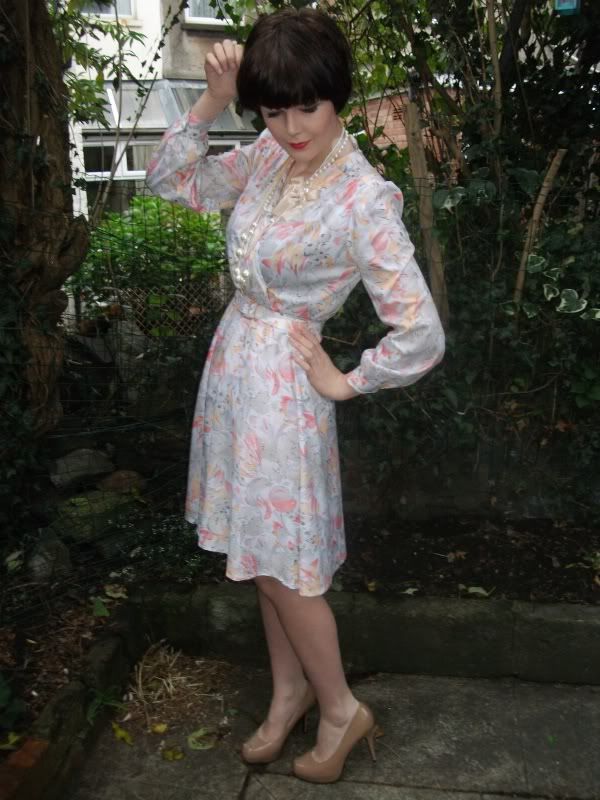 Dress - Dirty Vintage at NLM, necklace - Camden market, shoesies - New Look, dignity - somewhat restored.