Gosh-dangit, t'would appear that I have gone yet another week without uploading a single blog. I wish I could excuse myself legitimately this time, however there is nothing and no one to blame aside from the fact that I am still waiting to get my own laptop. I'm currently using Oli's, which is great but he does have this really annoying habit of disappearing off to his own house and taking the computer with him. Bloody men.
Misplaced blog frustration/computer envy aside, it's been a good week. I've decided that for my independent multimedia project I will be focusing on, yes, style...but WITH A TWIST! For an entire month next year, I will be making my own clothes and posting the results on a website I will design entirely from scratch. Not quite sure how it's going to go, as I have no idea how to use basic HTML and am slightly phobic of sewing machines (I once stabbed my pinkie on one of the needles. It hurt.)
Nevertheless, I decided to have a little warm up and tried out some printmaking for the first time. Dear God, I am now a woman possessed. I LOVE IT! It's incredibly easy and I now have a lovely selection of completely original t-shirts and jumpers that required little more than some card, fabric paint, a stanley knife and a foam paint-squidger (which is DEFINITELY the technical name for that particular tool). Here's one I made earlier...well, yesterday. I do love the Cure so this was the perfect easy-peasy starting point for my print mania, plus it goes pretty well with these frankly amazing ASOS creepers that finally came on Thursday.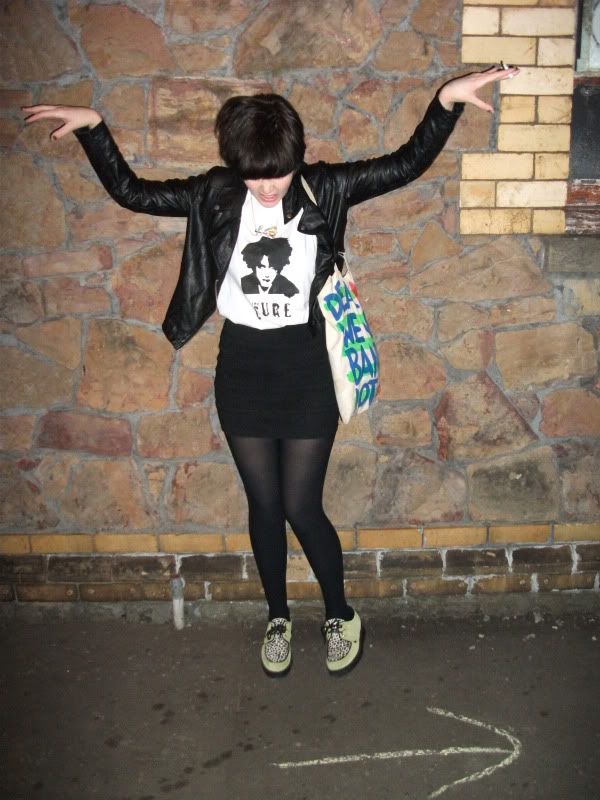 Leather jacket - vintage, top - customised, skirt - Topshop, bag - Sally Can't Dance, creepers - ASOS.
I'm going to be a bit self-indulgent now and post a couple of pictures of my old 60's dress that I can finally fit into again. I think I perhaps took the Edie vibe too far with the make-up, but I forgot how much I love going all-out with the youthquaker vibe. Is this a suitable outfit for a night on the town? Opinions more than welcome!
Sixties dress - Hobo's vintage, boots - vintage, leopard jacker - New Look, Pat Butcher earrings - god only know where I found those.
This blog WILL get better. Bear with me! There is a scathing rant about the Steps reunion tour coming up...plus more geek-out photos and idiotic tippidy-typings. Don't say I didn't warn you...